Some of you will have seen this before, but it's Spring and a lot of people have been asking me about worm composting. So here, for your delectation, via the Lower East Side Ecology Center (LESEC), are directions for keeping your own worm bin. If you live in New York, you can get worms from LESEC. If not, you can get them here.
Why Compost With Worms Indoors?
Worm composting is a method for recycling food waste into rich compost right in your apartment, basement or garage. In a nutshell, worm compost is made in a container filled with moistened bedding and red worms. You will need one pound of red wiggler worms to handle up to 3 pounds of kitchen scraps per week in a bin that should be at least 16" (wide) x 19" (long) x 12"(deep).
If you are feeling adventurous, you can also make your own bin! Some basic instructions for building a worm bin can be found at the end of this text.
Choose a bin
Build a bin out of wood or use a plastic storage container and adopt it for composting. The bin should be at least 12" deep, around 16" wide and 19" long, have a tight lid and holes on the bottom and sides for drainage and ventilation.
Pick a Place
Locate your bin where it will not freeze or overheat, temperature range should be between 40∞F to 85∞F. A good place could be a pantry, kitchen corner, garage or basement. Do not place the worm-bin next to a radiator. The worm-bin can be kept in a shady place outdoors from May through October, but needs to be inside for the winter.
Bedding Down the Worms
Worms like to live under lots of moist paper or leaves, which helps them stay cool and moist, giving them fiber to eat. Use regular newsprint black or color ink paper, but no glossy inserts, and shred to make 1 inch-wide strips. To moisten the paper, soak it in a bucket filled with water. Squeeze out paper so it is not dripping wet, and fluff to fill the bin 3/4 of the way – that is 9" of fluffy, moist newspaper. Now, you can add your red wiggler worms. Put them on top of the bedding and watch them disappear, as they will naturally disperse into their new home.
Maintaining Your Worm Bin
Feed worms by always burying the kitchen-scraps underneath the newspaper. Add moist newspaper as needed to keep a 4" to 6" layer of bedding over the food.
DO Feed Your Worms:
All fruit and vegetable trimmings including citrus
Coffee grounds and filters
Teabags     
Crushed egg shells
Used paper towels
Soft green plant trimmings
DON'T Feed Your Worms:
Meat, bones and fish
Dairy products and grease
Dog, cat or bird feces
Kitty litter
Woody prunings
Non-biodegradeable items such as plastic
All organic matter is broken down initially by naturally occurring microorganisms. To speed up this process kitchen scraps should be cut into small one-inch pieces. This initial 'rotting' process allows the worms to digest the organic materials.
Keep Bedding Moist, but avoid wet conditions. If your bin has too much moisture, add dry bedding, such as paper-towels, to absorb excess moisture and/or keep lid ajar. If bedding dries out on edges, spray to remoisten it.
If more and more worms are in your box, you might want to remove some. Red wigglers make great gifts and can be put in outdoor compost piles. If no worms are removed, the population will self-regulate.
Harvesting and Using Worm Castings
Congratulations! You have produced your own natural fertilizer to top-dress your houseplants or to line planting holes in you garden. Street tree pits will also benefit from the vermin-compost. Worm-castings are full of beneficial microbes and nutrients to power new plant growth instead of wasting away in a landfill. Harvest worm castings every two to three months to keep the worm population healthy, since castings become toxic to the worms over time. Start the harvesting process by not feeding your worms for two weeks. Then pile all the crumbly, dark worm-castings in one half of your bin, and place fresh bedding together with undigested paper, etc. in the other half. Resume feeding your worms, but add all food to the fresh bedding. Within two weeks worms will migrate to the new food and finished castings can be removed almost worm-free!!
The federal government today came out with a report saying that the southwest is going to get much dryer in the coming decades. That means:
Less drinking water
Less water for crops and livestock
More wildfires
More conflict between states and cities over river management
According to the New York Times:
… the places that are feeling water stress now are going to feel more in the future because snow will melt faster, bringing a decline in summertime stream flows. And as Mr. Salazar observed on Monday, this reordering of natural water supplies "will mean significant potential dislocations to the economy and the environment."
Furthermore, federal officials, in releasing the report, hoped:
to create or bolster a sense of urgency among Western water managers who are planning for the future.
Now to the point of this post. The cause of this coming shortage of water, according to the federal report, is climate change.
In other words, if you don't believe in climate change, then you wouldn't believe the conclusions of this report. You wouldn't believe that it would be necessary to prepare for water shortage in your region, if you're from the southwest.
So my honest question for you is this:
Are you prepared to put your money where your mouth is and not prepare for the water shortage–since you don't believe in climate change? Are you prepared to risk your crops, livestock, economy and drinking water?
Just wondering.
And also for the organizations that partnered with New York's finest to make this happen, like Transportation Alternatives (of which I am a proud board member).
Hip hip hurray!
Hip hip hurray!
Hip hip hurray!
Biking, where we can do it, is better for the planet and better for the people.
Images via Transportation Rules BikingRules.Org website: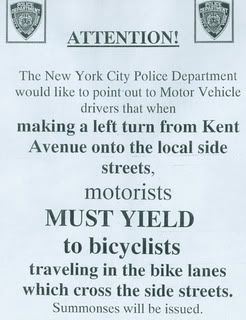 Watch the video. If you don't like what's going on so much, maybe take a next step by looking at this citizen's guide. Leave ideas for what else we can do in comments.
I will hope you will join me on September 24 in the No Impact Project's mini-march from the George Washington Statue in New York City's Union Square up Broadway and then across town the Dag Hhammarskjold Plaza for a rally in front of the United Nations.
This is part of 350.orgs Moving Planet event which is taking place in over 168 countries. All across the planet citizens will move by foot, bike, skateboard or scooter to demonstrate to world leaders that citizens demand a solution to the world Climate Crisis.
And if you can't join me, look for your local Moving Planet action here.
But if you can join me, come to
Where: The George Washington Statue, south side of Union Square, NYC
When: 11:30 AM
Bring: A garbage bag because we'll be collecting street litter along the way
You'll find our Facebook event page here.
See you there!
I spent much of this morning on the phone with a friend who is one of the top leaders in corporate sustainability. He wanted to know my thoughts on "innovation" and "progress."
Did I think they were good or bad? Did I think the drive for both helped or hindered the quest for a life that is both happier for the people and happier for the planet?
After a long long conversation, I realized that the whole thing could be summed up so simply. I wrote:
The question is over the use of the innovative, simple or techno. Does that use cause aspiration (the filling up with spirit–see etymology) or desperation (the emptying out of spirit).
No matter where you stand on the sustainability scale, by the measure I've just described, where does a brand fit that attempts to frighten a women into believing she is not a good mother if her child's shirt is not as white as the next child's?
Love,
Colin


I am curious about people who wanted to have a child or children but decided to have none or fewer because of concerns over population growth. I'm *not* interested in hearing from people who condemn the choice to have chidren but rather from people actually feel and understand the tug towards parenthood but have chosen not to.
Have you had feelings of loss? What ways have you found to satisfy the tug without actually having children?
I'm asking because there obviously needs to be a real cultural conversation about population growth and how many kids we should all have. But I don't think that a conversation about how much damage more children would cause is the answer. I don't think guilting and shaming each other helps.
For one, I personally find it a downer. And for two, I don't think it helps people who are struggling with the choice.
What would help people who are struggling with the choice is stories of others who have struggled with it before them. Aspirational stories of struggling with the choice and finding ways of resolving the struggle happily. Perhaps in creative ways that made your life or the life of someone else better.
If you have a story like that, perhaps you'd be willing to share it with us in the comments?
A monk asked a master, "I just became a monk and would like to know how to enter Buddhahood."
The master said, "Do you hear the waterfall?"
"Yes I do" replied the monk.
The Master said, "Enter there."
Dear Mr and Mrs Borah,
I am writing to tell you that you should be so incredibly proud of your amazing daughter. This is what I read about her in today's New York Times:
[The American climate envoy's] statement to delegates from more than 190 nations at the annual climate conference was disrupted by a 21-year-old Middlebury College junior, Abigail Borah, who told the assembly that she would speak for the United States because Mr. Stern had forfeited the right to do so.
"I am speaking on behalf of the United States of America because my negotiators cannot," said Ms. Borah, who is attending the conference as a representative of the International Youth Climate Movement. "The obstructionist Congress has shackled justice and delayed ambition for far too long. I am scared for my future. 2020 is too late to wait. We need an urgent path to a fair, ambitious and legally binding treaty."
 Ms. Borah, who is from Princeton, N.J., added: "We need leaders who will commit to real change, not empty rhetoric. Keep your promises. Keep our hope alive."
Scores of delegates and observers gave her a sustained ovation. Then the South African authorities threw her out of the conference.
That must have taken her so much courage to do that. She did a wonderful thing on behalf of us all. I feel as though she stood up for me, personally. Please tell her she is a hero.
Love,
Colin Beavan
Hi Friend–
Please consider this your invitation (on December 14, see below) to what promises to be a wicked fun time.
The cost will benefit our charitable effort  the No Impact Project and help get thousands of citizens to begin taking charge of the destiny of this habitat we all share and depend on. Indeed, not only will be the dinner by fun, it's an investment in a world worth living in!!
Please come! And bring friends (and grandparents and cousins)!
Also, we need to give the restaurant numbers very soon, so it would be a great help if you could purchase your tickets this week.
Thank you!!!!
Colin
PS Click the invite below and it will get larger.